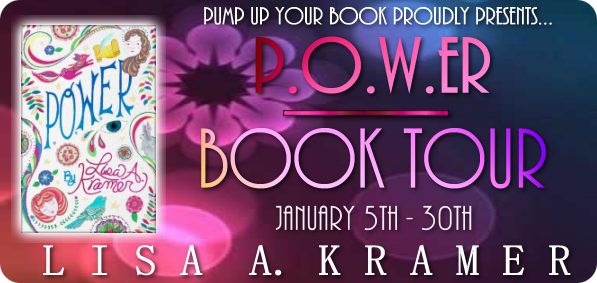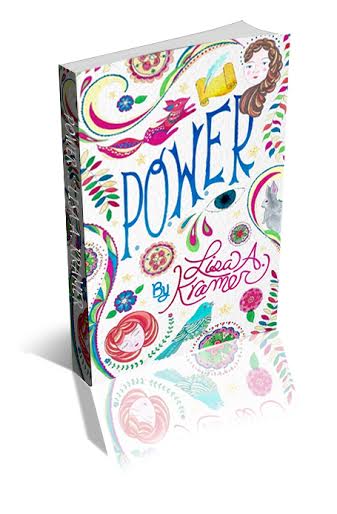 Title: P.O.W.ER
Author: Lisa A. Kramer
Year: © 2014
My Rating: ♕♕♕♕♕/5
Genre: YA; Fiction
Format: Signed; Paperback
Pages: 292
Sources: Pump Up Your Books
Publishers: Word Hermit Press
ISBN13: 9780990859390
↭P.O.W.E.R.↭

What would happen if women and girls joined their unique abilities together to change the world? In a world where access to the written word is reserved to men, Andra BetScrivener has been able to read and write ever since she was a little girl without anyone teaching her. She must keep her abilities a secret in the country of New North, or she could lose her hands, her eyes or her life. In fact, the only paths offered to her–and all young women–are to either marry or enter the government-run Women's Training Program, where she'll be taught "feminine" arts like drawing, painting, and homemaking. On her seventeenth birthday, Andra discovers that her abilities extend beyond reading. She can write events to life. As she begins to explore her new ability, she must take care not to jeopardize her father's job as head scrivener at the Ministry. Despite her efforts to keep her powers hidden, she comes to the attention of both the government and a rebel group, who each desire to use Andra for their own goals. At the same time, she begins to meet other gifted women who have never dared use their unique powers. With the help of her friends Brian and Lauren—who has the ability to read minds—Andra must find a way to unite the power of women to create change. When one side manipulates Andra's words into killing someone, and the other threatens her father's life and her own freedom, Andra decides to use her writing to empower others to stop governmental oppression. But in a society ruled by lies, cruelty, and inequality her journey will not be easy or safe. For each book sold, a portion of the proceeds will be donated to causes that support women and children around the world.




ΩMy ThoughtsΩ

P.O.W.E.R, is a great self help YA fiction story. The reason why I chose this books is simply to find myself. To ask myself "what is my purpose?" "What do I want to do in life". This book put me in a different perspective which I have never imagined myself in. It was great to think outside of the box and explore a whole new different world along with genres out there.
To go along with Andra in this book, I put my imagination to the test. Seeing things a persons perspective I always love doing. To feel there emotion and pain shows me if that were to happen to me this is what I would do. This is a must read if you are confused about what direction or path you want to take in life. This makes you a wise person because in situations you struggled in you can help yourself or someone else that needs help in that situation.
I adored the writing style. I felt that Ms. Kramer did a good job expressing her detailed book by the style of writing. It was easy to connect and understand with the plot about what was going on. This book is very different and I must add the cover is very beautiful. I love the different color chemise and designs that were used. What really stood out to me the most was the tears coming from the eye.
I felt a special connection between that, because my life is very sad and depressing. However, I don't let that stop me. I don't let people dictate my life and what happens in it. I tend to let people get to me, but I realised must block them out. They are no one special to you if they always have something negative to say and always have put-downs to say.
While, reading this book, I found very dark things that I loved. It really express a lot of dark mysterious things about this book that always amazed me. Keeping her powers hidden was a huge secret that tied the while book together. I liked the fact that it started out calm and collective but then turned for the best. Read this book for yourself and see the beauty that it holds.



♤Lisa A. Krammer♤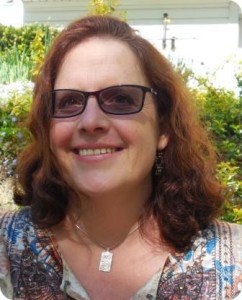 Lisa A. Kramer has spent her life learning, creating, and exploring the world through theatre, writing, traveling and collaborating as an educator. She has lived in nine states and two countries (including Japan). She holds a PhD in Theatre for Youth, an MFA in Theatre Directing, and a BA in English Language & Literature and Theatre. She has published non-fiction articles in journals specializing on Theatre for Young Audiences, as well articles aimed at young people for Listen Magazine. In addition to young adult novels, she has ventured into the world of short stories, and has stories for adults in several of the Theme-Thology series published by HDWPBooks.com and available on Kindle, Nook, and Kobo. When not writing, Lisa shares her love of the arts and the power of story as co-founder of heArtful Theatre Company and as adjunct faculty at various colleges and universities. She also spends time enjoying New England with her husband, daughter, and two dogs from her home base in central Massachusetts.