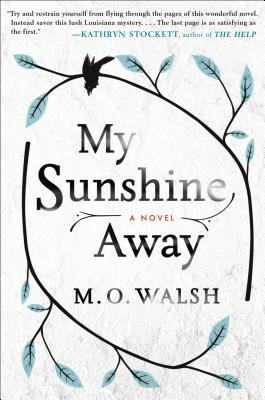 Title: My Sunshine Away
Author: M. O. Walsh
Year: ©2015
My Rating: ♕♕♕♕/5
Pages: 306
Genre: Fiction
Format: ARC; Paperback
Sources: Penguin
Publishers: Putnam
♥My Sunshine Away♥

It was the summer everything changed.… My Sunshine Away unfolds in a Baton Rouge neighborhood best known for cookouts on sweltering summer afternoons, cauldrons of spicy crawfish, and passionate football fandom. But in the summer of 1989, when fifteen-year-old Lindy Simpson—free spirit, track star, and belle of the block—experiences a horrible crime late one evening near her home, it becomes apparent that this idyllic stretch of Southern suburbia has a dark side, too. In My Sunshine Away, M.O. Walsh brilliantly juxtaposes the enchantment of a charmed childhood with the gripping story of a violent crime, unraveling families, and consuming adolescent love. Acutely wise and deeply honest, it is an astonishing and page-turning debut about the meaning of family, the power of memory, and our ability to forgive.
♡My Thoughts ♡

Writing Style: I loved the writing. It is one of the best page-turners I have read in 2014.
Captivation: This, is a great love story book. The concept and plot, really melts your heart but has a mystery waiting for you as you get more in depth with the story. It was very mind blowing and made me think outside of the box. It made me think like a detective and finding clues that will make you say "why did that happen". A great read to snuggle up with in bed on a rainy day that MIGHT bring the sun out. There were a few minor details that could have been added to make the story a bit suspenseful.
Plot: The plot was unexpected. There were so many twist and turns. Up and down mind blowing details that I won't spoil you with. If you think this book was okay, think again. Give this book a go. This will really make you pop with amusement you gotta grad this for yourself.
Characters: The characters were very heart warming and fit the story perfectly I cannot complain about anything. Some things added to make the character bolder I think did not fit it so good. Nonetheless it was very intriguing to accompany them along for the ride.
Favourite Line: "Our mansions, apparently, lacked character. Our garden was some cheap knockoff of their garden district."
Final Thoughts: A great book to laugh along with.
※M. O. Walsh※