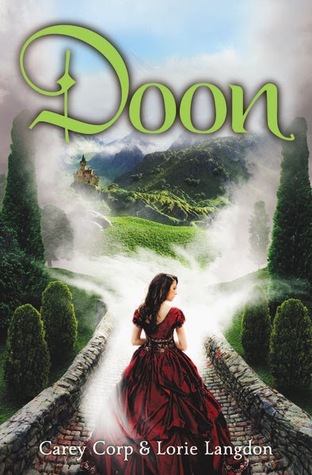 Title: Doon (Doon #1)
Author: Carey Corp & Lorrie Langdon
Year: © 2013 (August 20th)
My Rating: ♥♥♥♡♡
Pages: 368
Genre: Fantasy
Format: Hardcover
Sources: Booksparks
Publishers: Blink
ISBN: 0310742307
ISBN 13: 97803107442302
☆Doon☆
Veronica doesn't think she's going crazy. But why can't anyone else see the mysterious blond boy who keeps popping up wherever she goes? When her best friend, Mackenna, invites her to spend the summer in Scotland, Veronica jumps at the opportunity to leave her complicated life behind for a few months. But the Scottish countryside holds other plans. Not only has the imaginary kilted boy followed her to Alloway, she and Mackenna uncover a strange set of rings and a very unnerving letter from Mackenna's great aunt—and when the girls test the instructions Aunt Gracie left behind, they find themselves transported to a land that defies explanation. Doon seems like a real-life fairy tale, complete with one prince who has eyes for Mackenna and another who looks suspiciously like the boy from Veronica's daydreams. But Doon has a dark underbelly as well. The two girls could have everything they've longed for...or they could end up breaking an enchantment and find themselves trapped in a world that has become a nightmare.

So, I read "Destined for Doon" first and I got terribly spoiled for some parts. Now I have read both books and I like the second book rather than the first. The book was okay but it could have been better and my expectations were very high on this book. This books wasn't as bad as I saw some 2 and 1 star(s) reviews on goodreads. I found this book to be very unique and vividly imaginative.
Both authors are splendid and I liked that two minds were put together to write this storyline. However at times the story was a bit dry and I felt as if it wasn't going anywhere. It just a bit repetitive at times and I was kind of sluggish to give it another go. The good part of the book was the middle. When I first stared reading the book, I was just waiting for the climax really, really badly. After getting pass a few chapters then the excitement really gets you.
I recommend the 2nd book the most but this wasn't such a bad read. This is a great fantasy series that I must recommend. The characters were great then annoying. At times I couldn't connect to what they wete doing but emotional wise yes. They annoyed me when they just acted so silly like they were unawre of there surtoundings and that made me take the story for a bad "House of Anubis" episode with the main chacter Nina. Other than thoes complains it was an okay read.
I am the author of several young adult books, including the DOON series from BLINK/HarperCollins, inspired by Lerner & Loewe's Brigadoon, and co-written w/Lorie Langdon.
*Please note this is an unmonitored account. I do love to connect with readers on Twitter and Facebook. Visit the Dooniverse for links: www.DoonSeries.com*
Lorie Langdon is co-author of DOON, a YA reimagining of the musical Brigadoon, available now from Blink/Harper Collins!
www.doonseries.com
A few years ago, she left her thriving corporate career to satisfy the voices in her head. Now as a full-time author and stay-at-home mom, she spends her summers editing poolside while dodging automatic water-gun fire, and the rest of the year tucked into her cozy office, Havanese puppy by her side, working to translate her effusive imagination into the written word

.