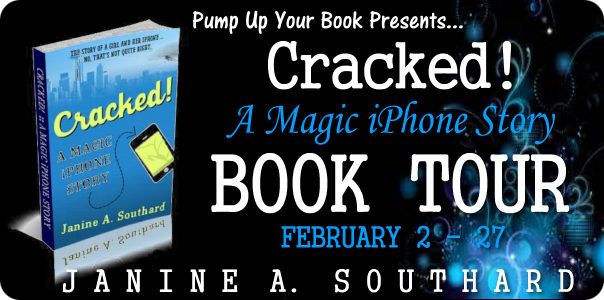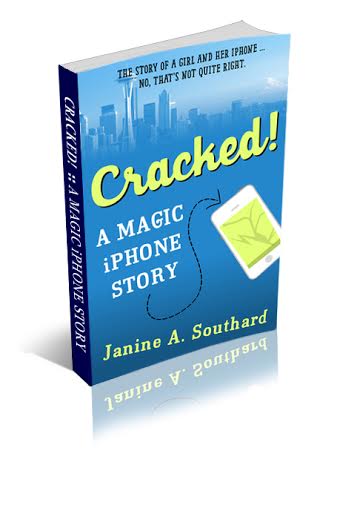 Title: Cracked! A Magic iPhone Story
Author: Janine A. Southard
Year: © 2015
My Rating: ♪♪♪♪♪/5
Pages: 300
Genre: Fiction; Humor
Format: Paperback
Sources: Pump Up Your Book
Publishers: Cantina Publishing
ISBN 13: 9781633270176
Cracked! A Magic iPhone Story
What can your phone do for you?
This is the story of a girl and her iPhone. No, that's not quite right. This is the story of a middle-aged statistician and her best friend. Though she didn't consider herself middle-aged. And the best friend was more of a roommate-with-whom-she'd-developed-a-friendship. And this description completely ignores the 6,000-year-old elf with whom the woman and her best friend enjoyed story gaming.
This is the story of a woman who wished to find love, but who would rather play story games than actively look for it. Especially in the wake of a horrid break-up six months before from a man who had never sent her a single gift.
Until this Valentine's Day, when she received a brand new iPhone in a box with his name on it.
Between story gaming and succumbing to the phone's insidious sleekness, she learns that friendship trumps romance.
In Cracked! A Magic iPhone Story, award-winning author Janine A. Southard (a Seattle denizen) shows you how the geeks of Seattle live, provides a running and often-hilarious social commentary on today's world, and reminds you that, so long as you have friends, you are never alone.
My Thoughts
So, I thought this was going to be about a girl who cracked a iPhone, but its not. Its so much better. The story takes place in Seattle, Washington one of the states I really like to visit. The cover was beautiful. What I mostly admired the back drop of all the tall buildings in the back ground. I really liked that the author added a bit of humor while I was reading the book. The elf for some odd reason reminded me of Dobby.
I think that the adding of the phone made it mysterious and I wished I was her uncovering something so romantic and well thought of. I do agree with Southard about friendship. I find friendship to be a good thing but, its hard to find. Finding people that will stick by you through thick and thin. Ups and downs, anything that you will need a real friend for.
A lot of people wish to find love like myself but I don't want to rush in anything. You should let it find you and come naturally. Its like the saying "be yourself and everything will fall into place". If your looking for a book that will make you laugh this is the book for you. I laughed so hard tears constantly built up in my eyes.
Janine A. Southard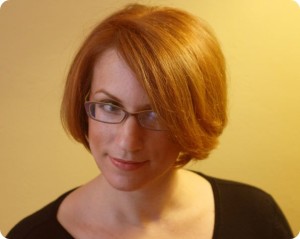 Janine A. Southard is the IPPY award-winning author of the Hive Queen Saga, as well as other science fiction and young adult novels and novellas.
The Hive Queen Saga books blend cultural experimentation with epic as they follow a formalized Hive of teenagers on a voyage to new lands and new cultures where their own ways seem very strange. The first novel in the saga, Queen & Commander, has been described as "like Joss Whedon's Firefly but for teenagers" by the YA's Nightstand. The second book, Hive & Heist, is a classic heist tale set on a space station.
Queen & Commander received an IPPY (Independent Book Publishers) Award for science fiction ebooks in 2013. Outside the Hive Queen Saga, the science fiction novella These Convergent Stars was selected as the short ebook recommendation of the week at Tungsten Hippo on 29 January 2014.
All Southard's books so far have been possible because of crowdsourced funds via Kickstarter. She owes great thanks to her many patrons of the arts who love a good science fiction adventure and believe in her ability to make that happen.
From her home in Seattle, she is currently working on a half-contemporary, half-fantasy novel for adults, Cracked! A Magic iPhone Story, which releases in early 2015.